Checkout


Basket Empty
WP Racing is one of Europe's largest independent race fuel and lubricant suppliers, providing a number of high profile Championships with the highest quality race fuels and lubricants and trackside testing services.
We are licensed sellers of:
Panta race fuel
Mobil 1 lubricants
Elf racing products
View all News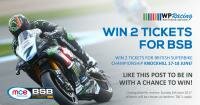 Find out how to be in with a chance to win!
WP Group racing division continue to support the championship with specialist fuel supply, analysis and testing throughout the 2017 series.
The British Superbike Championship received a rapturous reception at the 'Big Brands Bash' last weekend (17/18/19 July) as 55,000 fans descended on Brands Hatch for the annual summer event with the biggest crowd in several seasons lining the circuit.
A stunning £50,000 prize is up for grabs as the British Superbike Championship returns to the Brands Hatch Grand Prix circuit this weekend (17-19 July). A unique twist has been added to the usual BSB weekend format that will see the 'BSB Monster Energy King of Brands' crowned following the second race on Sunday.