Checkout


Basket Empty
Find out if you won 2 entry tickets for the upcoming BSB race weekend at Snetterton!
And this time it's to win 2 tickets to the next race on the British Superbike Championship calendar... Snetterton!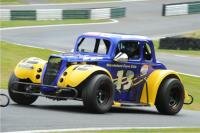 With only 3 points currently seperating the top three drivers in the league table, everything is still to play for ahead of MRF Legends Car resumption
The results are in... find out who won our first social media competitions!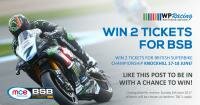 Find out how to be in with a chance to win!
WP Group racing division continue to support the championship with specialist fuel supply, analysis and testing throughout the 2017 series.
The British Superbike Championship received a rapturous reception at the 'Big Brands Bash' last weekend (17/18/19 July) as 55,000 fans descended on Brands Hatch for the annual summer event with the biggest crowd in several seasons lining the circuit.
A stunning £50,000 prize is up for grabs as the British Superbike Championship returns to the Brands Hatch Grand Prix circuit this weekend (17-19 July). A unique twist has been added to the usual BSB weekend format that will see the 'BSB Monster Energy King of Brands' crowned following the second race on Sunday.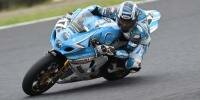 Ryuichi Kiyonari has completed his first test with the Team Kagayama squad at Suzuka in preparation for the Eight Hour event and now heads back to Brands Hatch ahead of next weekend's (17/18/19 July) round of the British Superbike Championship event.
Shane Byrne heads the British Superbike Championship pack to Knockhill this weekend (3/4/5 July) and the defending champion is under no illusions that he will have a fight on his hands if he wants to reign in Scotland.